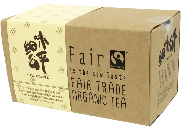 FAIRTASTE ORGANIC JASMINE TEA
Grown at an altitude of 800m at the Dazhangshan region in Jiangxi, China, this is the first tea to win a Grade AA Green Food Certificate in China. It was also certified organic by the BCS according to EC regulations. The mountain range in Dazhangshan is unpolluted and rich in natural resources, giving it a natural condition to grow the best-quality organic teas. This tea is produced by triple aromatization with fresh jasmine flowers, resulting in a delicate fragrance and a balanced flavour.
Ingredients: 100% Organically Grown Jasmine Tea. Cut from whole leaves.
2.5g x 25 teabags