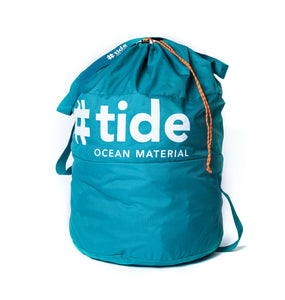 #Tide OceanBag Jimmy
The ocean is suffocating with plastic pollution. Solutions are urgently needed, or otherwise the ocean will contain more plastic than fish by the year 2050.
#tide offers a solution to this pollution: We are upcycling ocean-bound plastic waste and transforming it into a premium raw material which brands use for their new sustainable products. We give plastic waste a value.
•
Made from 100% ocean-bound plastic
•Single-use plastics become sustainable goods
•Already more than 15 million PET bottles upcycled
•Developed in partnership with the Swiss University of Applied Sciences
•Transport emissions are offset with MyClimate.org
•Partially compounded with renewable energy
Material: Upcycled Polyester, made from 100% ocean-bound plastic.
Fastener made of climbing cord.
Size: 200 Liter, 60x90cm
Color: Signature #tide Petrol with orange braided contrast cord.